Alruna Moongazer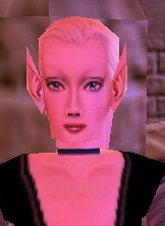 Stats / Background / Pictures
---
Alruna was my main character in Everquest. She was just a character I created one night at about 2:00 am after playing all day with my friend Matthieu. We wanted to try different kinds of characters, and he created a Paladin while I chose a Cleric. We played them to about level 4 before we became too tired to play.
The next day, I played Alruna on my own for a bit and raised her to level 5. She joined a group of rather foolhardy individuals who decided to take on a camp of goblins. I knew they were much too strong for us, but my companions would not listen to me. Still, I stuck around and died with my companions. This was Alruna's first death... The first of a great many deaths, EQ being the game it is. 30 minutes later, I left my house for a 10 week business trip to Ireland...
While I was in Ireland, it was sheer torture to think about EQ, yet not be able to play from there (couldn't easily get an adequate connection / computer to play EQ). Especially since my friends Chuck and Matthieu were playing all the time. I finally came back to Montreal on june 12th, 1999 and was dying to play my characters, with my friends. As luck would have it, Matthieu stopped playing pretty much at that time, and Chuck's character was now level 25ish... way out of my league (Grizben was still only level 8, Alruna was only level 5).
Chuck and I were planning on playing Grizben and Grumli together, so during my week of vacation after coming back, I concentrated on Alruna (so Grizben would stay in Grumli's range). I made many friends during Alruna's first adventures in Norrath, and some of those friendships led me to be one of the 10 people to create a guild on the Veeshan server in july 1999. A guild called "the Council". Being part of that guild was the source of many great adventures, and allowed me to make many friends in Norrath. Sadly, it's also the main reason why I left EQ... It was just too much stress and bullshit. Not that the Council was a bad guild. On the contrary, I sincerely think it's one of the best guilds on the server, but human nature being what it is, you can't have 150 people in a group without some friction. And that friction got to me after a while, badly enough that eventually, it drove me to quit my favorite game. That, and the fact that role-playing was long-dead in EQ, and all there was left was play newbies in the shadow of shame, or do big raids as a high-level character, an activity which I loathed.
I'd many ideas to role-play Alruna, but again, EQ being the game it is, in the end most of her EQ life was spent fighting evil monsters with her group of friends. I never got to play the story involving her father, "uncle" Grizben, etc. Maybe one day I will write more about it.
Alruna was truly a gentle character, and while I played her, in a way she brought out a lot of my best personality traits. In a way, I was role-playing her even when I was out of character. My behavior and history within the Council might have been completely different had my main character turned out to be Grizben, or Zeloth for example. Strange, but true.
It's my hope that one day, perhaps in an other game or a story, I'll get to play this little angel again. She is too sweet, too kind to remain just a memory.
---
Here are miscellaneous memories I have of playing Alruna. It might be quite boring, I'm really just writing this for myself. Feel free to skip it. Then again, you're free to skip anything, really. It's your life.

My first night of adventures, hunting in Steamfont mountains with my friend Haqqika.
Hunting goblins in Butcherblock mountains, my first death at a goblin camp.
Visiting Kaladim.
Getting killed twice by goblin wizards.
Fighting an epic battle against a goblin while I was level 6, and almost dying to it, had I not been helped by a level 4 dwarven cleric who sacrificed himself to save me. We became good friends that night. His name was Gesler. :)
Spending a whole morning drawing a map of Kelethin.
Practicing my fishing, swimming and tailoring skills in Felwithe.
Adventuring into Crushbone and making many friends there, including a high elf enchanter named Souldium whose player worked for Microsoft (not sure why I remember that one but not most of the others).
Meeting a human wizard named Nemno while hunting goblins in Butcher Block (I must've been about level 7). We really hit it off, and we became great friends. Even though he dropped that character to play another one: a dwarven cleric named Rutgger. :)
Buffing a newbie on the road to Kelethin when I was around level 9, and meeting another High Elf lady (a Paladin) who was also getting ready to buff the same newbie. We became good friends that day. Her name was ... Galilee... :)
Hunting minotaurs in the Steamfont Mountains caves with Grumli, Galilee, Juul (the original one) and a wood elf druid named Catz who had a crush on Alruna.
Being impressed at seeing Rutgger dressed in full bronze armor !!
My first trip to Dagnor's Cauldron, with some really bad companions (double pullers). Miraculously, we all survived! (Though we had to run from an aqua goblin Tidal Lord).
Soloing some named giant spider in Lesser Faydark (an epic battle !).
My first trip to Antonica. I waited on the docks next to Rendell, a level 30 High Elf Cleric dressed in rubicite armor! (I was level 13 and mostly all in leather armor). She was great. I still have a screenshot of her.
My first adventures on Antonica.
My first adventure in Befallen, with Galilee. Right after I made level 14 (I think Galilee was level 16). I just got Bind, but forgot to bind near Befallen and remained bound in High Pass. Galilee and I both fell in the pit trap in Befallen (...) and had a hell of a time getting our bodies back. I appeared in High Pass, ran all the way back to Befallen, forgot to bind myself again, died naked in Befallen again, reappeared in High Pass again BUT went back to level 13 that time, ran all the way back to west commons, got stuck in tell hell with someone while standing there naked in west commons, got killed by one of those dark elf NPCs, reappeared in High Pass again, all the smugglers got trained on me as I was memorizing my spells and I died a 4th time in about 40 minutes... I was MAD ! Luckily, Galilee managed to prevent me from doing anything foolish.
Creating the Council and hunting with half of the guild (5 people :) for the first time in High Pass.
Hunting in Paw (the old one, of Black Burrow level) with a wood elf ranger named Vemon.
Hunting on the Gargoyle Island in the Ocean of Tears with Luno and Karmela.
Hunting in Oasis and South Ro with many different people, including a warrior and 3 wizards who'd been without a healer for a long time, and the warrior said "there is a god!" when I joined the group. :)
The Bigears Outtamana incident.
Hunting in Unrest with friends from the Council, as well as with strangers. I remember the Hand room, hunting outside the house, the night when I wanted to make level 20 so bad that Rutgger, Nostalgia and Galilee arranged for me to group with a super twinked Japanese paladin who didn't even speak english. Making level 20 while camping the Barman in Unrest, and asking Galilee, "Hey, notice anything different about my name??" ;) Hearing Rutgger shouting "LOOK BOSS!! IT'S DE TRAIN!! DE TRAIN !!" every half hour. :) Meeting new cool people, like Spoffid, Chektor and Garvok.
Meeting Morley and Follwindy (Morgannawin) in Oasis and going to Guk with them and Rutgger and Galilee. Rutgger the crazy guy trying to get us to camp Ghoulbane. Fighting many epic battles with my friends.
My friendship with Jicks, then my engagement to him.
Organizing my wedding in Surefall Glade.
Not being to log on ALL DAY on the day of my wedding because of some weirdo twilight zone problem with my ISP.
Having my wedding the next week-end, and being delighted to see many of my friends there!
Basically not seeing Jicks at all from then on. :(
Soloing my first Ice Orc Shaman (and avenging many a Barbarian newbie of mine).
Having a really tough time finding a group at level 22-23.
Hunting in Najena with some friends (including Nisha).
Discovering Solusek A one day with Sulla. I was level 23, he was level 30. We did not fare so well that day, but I fell in love with that zone, and came back with some people and we formed great groups for a long time. I hunted about 80% of my time from level 24 to 34 in Sol A and died only twice in all that time. In comparison, in the space of 2 hours at level 32, I died once in Mistmoore and twice in Unrest.
The great days of Solusek A with Morley, Follwindy/Morgannawin, Razael, Saldrin, Chektor, Onusar. Meeting Revs, Salis and Zvenn in Sol A for the first time.
Doing the "Barrett's Mystery" quest, even if few people participated.
Hunting in Paw and dying a lot. Getting my first Revive in Paw. Getting my first shot of Clarity in Paw.
Hunting in Cazic-Thule during my christmas holidays.
In Feerott, killing an Ogre guard with Telbain, just the two of us.
Helping Telbain camp the damn Minotaur Hero in Steamfont for 5 hours and it never showed up, though it was spawning ALL THE TIME when I was hunting there at level 8...
Visiting Kerra island, Everfrost, Rathe Mountains with Saldrin.
Starting to go to "big shot" places like Lower Guk and Sol B.
Hunting Hill Giants with my friends.
Doing the quests for my Cleric Armor with some help from my friends.
Practicing my brewing skill.
Doing the stupid Giant Glacial Bear camp in Everfrost with my friends, and having about 18 people show up to kill the stupid worthless level 50ish NPC wizard for nothing.
Killing Ice Giants. Oh the rush !! :) On a side note, Alruna was never, ever killed by a giant except for Fire Giants in Sol B raids. Seeing as they are such a prime cause of newbie deaths, I am quite proud of that accomplishment.
Visiting in Runnyeye and Permafrost, alone.
Soloing my first Griffon, and my first Hill Giant.
Giving resurrections to 548976849678549 people, most of the time for free. ;)
Going to City of Mist and not enjoying it too much because everybody died.
Going to the Plane of Hate and liking it so-so, because it was exciting at times and I got good armor, but it was long and boring much of the time.
Going to the Plane of Fear and hating it because we always died SO BAD, that twice I thought I would just delete Alruna and give up on EQ. Including the time myself and half the people in my guild had to stand naked in the stupid damn spectre cave in Feerott because every time we went back into the POF we got killed... We spend 10 full hours on that stupid corpse recovery... On a friday night / saturday morning from 8:00 PM to 6:00 AM EST. God, thinking back on that one night really makes me happy I'm not playing EQ anymore.
Going to the Plane of Sky and finding it reeeaaaally boring, except the fight against the Efreeti, where at the end of the fight only one tank was left alive: Quizath the warrior, who had been in my group (guess he had a good healer, he he he... ;) ).
Doing a few exciting Fire Giant raids in Sol B.
Managing to do the Efreeti camp in Sol B with 3 groups.
Later on, managing to do the Efreeti camp in Sol B with one group. Easily.
Hunting in Karnor. Yawn.
Hunting in Sebilis. Exciting at times, frustrating at others.
Hunting in Chardok once, it was mostly fun, except that many people died at the end because of a HUGE train. I miraculously lived.
Going LD in Sebilis and coming back (ungrouped) as the whole group was dying/evaccing out. Managing to Gate Out with 3 monsters pounding on me!
Going LD in the Efreeti Room in Sol B and coming back as the whole group was gone. Managing to Gate Out with a lava guardian and an imp pounding on me! (never has the phrase "SO LONG, SUCKERS!!!!! HAHAHAHAHAHAHAHA!!!" been pronounced so loudly in my room. ;))
Being at a GM event in Dreadlands (the only GM event I managed to see in 2 years of playing EQ): big spiders attacking everyone... Going LD as the spiders were coming toward us. Coming back dead.... (You don't lose any experience in that case, but still... *sigh*...)
Hunting in Howling Stones. A scary, stressful race against the clock and very annoying for me as a cleric because the whole group is vitally dependant on your mana... you make one mistake and get too low on mana, it's EVAC, or death, and start all over again. And then there is always the possibility of a bugged train while you are deep inside... And then it's, get out the coffins baby.
And many other annoying things about the high level (50+) game play in EQ, which I will not get into. The important thing is that, for a long time, I had fun. :)
---
Race: High Elf
Class: Cleric
Gender: Female
Level: 53
Religion: Tunare
Server: Veeshan
Current place of residence: Felwithe
Alignment: Good
Guild: The Council
---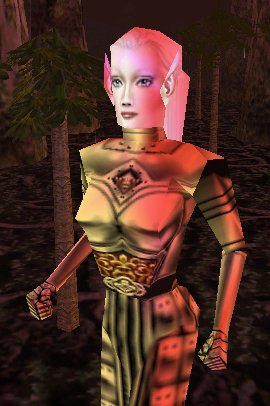 ---
Alruna was born in Felwithe and lived a happy, sheltered childhood within the majestic marble city.

Family
Her father, Alkiran Moongazer, was once a High Priest of Tunare, and a bold adventurer. However, he lost his faith during his adventures (see Grizben's background), and is now living humbly in his lofty home, his only pleasures being the quiet contemplation of nature, and his family. He is a very kind and wise man, full of compassion. However, he is permanently wounded inside, and would never again take the path of adventuring. Alruna looks up to him, and they are very close. She keeps no secret from him.
Alruna's mother, Cassina Flowerhand, is a gardener in Felwithe. This life is quiet, but is also quite prestigious in Felwithe. Gardening is much the same as architecture to elves, since they work plants into objects of beauty, much as they do with stone. Alruna and her are not that close, since they have little in common. Cassina is more concerned with matters of social etiquette, and gossip, than with doing good unto others. She strongly disapproves of Alruna's "foolish" traveling around the world, and is very worried about her daughter who visits the lands of the 'lesser, barbaric races'.
Alruna has only one sibling, an older sister. Her name is Ellanina. Alruna and her do not get along well. Ellanina is a musician in the Felwithe orchestra - also a position of great prestige in the High Elven society. Ellanina is your typical High Elven snob, very arrogant and who looks down on almost everyone. Her temper is quite bad, and she loves to make others feel inferior. She is very bossy and seems to think of herself as a princess, expecting everyone to always drop everything they are doing when she needs them. She does not care at all about Alruna's travels, or at least claims not to. She understands the need for priests and healers to cure and protect the people of Felwithe, but does not understand her younger sister's desire to risk her life to help the lesser races. Of all races, Ellanina despises Wood Elves and Half-Elves the most (even more so than dwarves) and always strives to make them feel inferior.
Ellanina is married to Jandaiel Whiteoak, a High Elven gardener (who works with Cassina). He is a meek individual, who never stands up for himself, and who is constantly doing Ellanina's bidding. A pathetic excuse for a man. He cannot seem to think for himself, and views the world through Ellanina's eyes, her opinion becoming his. They have two young children, Alruna's nieces and nephew, Eltaran and Dulcia.


Personality
Alruna is quite unlike her mother and sister. She is very down to earth for a High Elf, and shows respect to everyone unless they behave very rudely. Being very open-minded, she enjoys conversing with people from other races, and has many non-elven friends, especially Dwarves.
Though she is sophisticated and graceful, she is amused by the rough manners (drinking, speaking loud, etc.) of Dwarves, Barbarians and Humans. Even if she finds them barbaric at times, she will try not to show it, so she doesn't hurt their feelings. Alruna is a nice girl and does not want to make others feel miserable.
Alruna is a bit of a 'nerd' among other High Elves. She is too honest, and shows her true feelings. In the High Elven society, everything is a game. Everything is about how you act, your reputation, what you make other people believe about yourself. Alruna, who is unwilling to take part in such foolishness, was not very popular as a teenager and as a young woman. To young elven men, she seems quite plain.
It is with members of the other races that she shines through. Her smile hits them like a beam of sunlight, and her gentle eyes bring hope and joy in the saddest heart. With a gentle touch and soothing voice, she helps others, healing wherever she goes. Many people are surprised at first, not only at receiving aid without being asked for compensation, but at seeing those kind High Elven eyes gazing at them fondly, not judging them, not making them feel inferior.
Alruna is, obviously, very dedicated to Tunare. She knows her father's hurt, and why he lost his faith in Tunare. However, she is in some way stronger than him, and understands that Tunare did not will to bring his father's beloved back to life. Alruna is very wise for one so young. Her greatest, secret hope, is that her father will find his Faith once more.
Alruna is very easy-going, she smiles and giggles often, even in situations of stress. She is brave but not foolhardy. She knows when to run. She can be very warm physically, hugging friends often, but she can turn quite shy if a man makes passes at her. She does not seem to be ready for love; however, she always makes a point of being polite when she declines men's advances.


Journeys
Alruna has traveled quite a bit since she finished her work as an acolyte at the Church of Tunare in Felwithe. First, she roamed Faydwer, helping people from Kaladim to Steamfont Mountains, also venturing into the Orc fortress of Crushbone. During these journeys, she came to know many brave souls, such as Gesler, Galilee, Jicks, Catz, Rutgger, Than and Souldium. Being quite friendly, she made friends easily and had no trouble finding a group to protect her while she traveled to aid those in need. Soon, she started to hear tales from Antonica, the land beyond the Ocean of Tears. Some of her friends had journeyed there and come back, and had learned much in their travel. The continent of Antonica was under the scourge of many great evils, especially the vile Teir'Dal. Feeling that the Orcs showed little challenge to her now, and having learned that the Teir'Dal were the puppet masters beyond many an orc raid, she decided to travel to Antonica to get closer to the source of the true evil: Neriak, city of the Teir'Dal.
Though she has not yet ventured into the dark city, Alruna has traveled all across Antonica. She ventured from Freeport to Qeynos, going through Highpass Hold. She treaded the snowy valleys of Everfrost, and hunted gnolls in their lairs of Black Burrow and Paw.
She then came back to Freeport, and helped some heroes in their war against the desert Dervish. Once again she made friends easily, but Alruna jumped up with joy when she saw familiar faces from Faydwer, such as Galilee and Jicks. Along with Galilee, she ventured bravely into the vile dungeon of Befallen. Many heroes had advised she go there, since the Undead menace was growing ever stronger in the lands of the Humans, and many judged Befallen to be the source of that evil. Alruna felt that Galilee and herself, being a Avatars of Tunare, were the ones to put an end to that evil.
---
I recently discovered, to my surprise, that the name "Alruna" already exists. Apparently, it is a Real Life name, and also has a historic meaning:

http://www.bibliomania.com/Reference/PhraseAndFable/data/37.html
Alruna-wife (An) The Alrunes were the lares or penates of the ancient Germans. An Alruna-wife was the household goddess of a German family. An Alruna-maiden is a household maiden goddess.
"She (Hypatia) looked as fair as the sun, and talked like an Alruna-wife." - Kingsley: Hypatia , chap. xii.


http://www.kabalarians.com/female/alruna.htm
Alruna
Your first name of Alruna has created contrasting qualities in your nature. You desire change and varied experiences and you are capable in many areas, but you do not excel because of your scattering, impulsive desires. With supportive influence from other names you may use, you could be creative or artistic in a practical way, but basically this name is a plodding influence, though you have a desire for greater expression. Although you desire to avoid monotony, you seem to be attuned to system, order, and attention to detail. You can be very analytical, exacting, and patient as long as there is a challenge holding your interest, such as in the field of computers with its technical challenge. When your interest is exhausted, you switch to something else even though it means leaving your undertakings unfinished. This name makes you inquisitive and scientific in your approach to life, requiring everything to be proved to satisfy your skepticism. This skepticism has not protected you from many disappointments when people you have trusted have let you down. This name creates strong physical desires, such as an appetite for heavy, starchy foods and meat. Tension affecting the solar plexus and digestive organs could lead to ulcers, growths, or constipation.
Alruna, this brief analysis of your first name is not complete. There are many additional factors (nicknames, last name, names and initials in your business signature, and birthdate, etc.) to be considered, or that affect your personality and life. A personalized Name Report™ will give you a comprehensive description of your unique abilities, inner potential, strengths and weaknesses, compatibility in personal and business relationships, career aptitudes, health, and degree of happiness and success.


This came as quite a surprise to me. It was just a name I thought of...
---
Last updated: 2001-03-15
---
Back to the main page